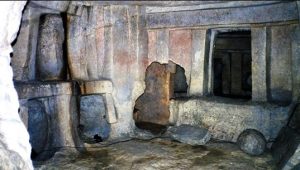 Hypogeum, Gozo, Malta.
Archaeoacoustics. Underground, esoteric long-skull center from prehistoric times, consecrated to the Mother-Goddess.
Sound studio for cymantic, non-linear resonance, anti-gravitation, 110 Hz phenomenon, 528 Hz divine transformation and other miraculous tunes for healing the seven chakras, a space for exploring the secret power, VRIL, which in the Hindu philosophy can be called prana, experienced by playing, singing and hearing mantras. The technology is close related to norse SEID, an auditiv tool for connecting into the æther/akasha. Hy-Brasil is a possible outspring.
Lisa Thiel - Song to Brighid
Loreena McKennitt - Beltane Fire D..
Faun - Brynhildr und Sigurd
Lisa Thiel - Lady of the Lake
Nebelhexe - Laguz Within the Lake
Loreena Mckennitt - Lady of Shal...
https://www.youtube.com/watch?v=POUOJSxcWlY
Duivelspack - Völuspá (Yggdrasill)
Deve Premal - Gayatri Mantra
Andrea N - Where the Lonely souls..
Tautameitas - Raganu Nakts
Chalice and Blade - I Hear You Calling
Wendy Rule - The Circle Song
Lisa Thiel - Daughter of the Elements
Andrea Nebel - Frigga's Web
Saydyy Kuo Fedorova - Udagans's dream (The She-Shaman's dream)
Lisa Thiel - Rainbow Woman
Lisa Thiel - Yule (W. Solstice Song)
Lisa Thiel - Litha (S. Solstice Song)
The Nubian Sisters, Al Balabil - Aghoul Ansak
Ejigayehu Shibabaw (Gigi) - Adwa
Kapu Kinimaka Alquiza - Aloha Waimea I Ka Wai Kea
Wardruna - Rotlaust tre fell
Juliana - The Spirit of Tengri
Lisa Thiel - I am the Goddess
Lisa Thiel - Samhain song
Lisa Thiel - Moon Mother, from "Journey to the Goddess"
Lisa Thiel - Ostara (Spring Equinox)
Lisa Thiel - Mabon (Autumn Equinox)
Habtamu Lamu & Yanet Dinku - NAAF SI FOON
Hawwii H Qananii (Norway/Oromia) - Oromo Music
Alborada - Ananau (Oh, what a pain) language: Quechua)