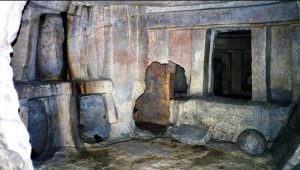 Hypogeum, Gozo, Malta.
Underground, esoteric long-skull center from prehistoric times.
Sound studio for cymantic, non-linear resonance, anti-gravitation, 110 Hz phenomenon,
528 Hz divine transformation and other miraculous tunes for healing the seven chakras.
Possibly also a space for exploring the secret power, VRIL, which in the Hindu philosophy
is called prana, experienced by playing, singing and hearing mantras.
The technology may be inherited from Hy Brasil.